A bomber jacket has been on my list to sew for a long time (years). Jackets and hoodies are some of my favorite things to sew. Well, you may know by now that having a test deadline propels me to get more done; so when the test came out for Causeway Bomber Jacket, I had to apply.
Kennis gave us a heads up so we had several weeks to gather supplies. And let me tell you, Reversible zippers are not an easy thing to find, especially in the color you want. Ribbing is also difficult to find, but you can substitute pointe with the right stretch. After searching for some different colors than what I had with no luck, everything I used for both jackets were from my stash! I guess it pays to stock up on things in advance.
I wasn't going to sew a muslin. I know my adjustments for Itch-to-Stitch patterns and always wear the same size. This is a 2 A cup, shortened 1″ in the bodice and sleeves. Since I had more fabrics I wanted to use, the pineapple twill and polyester gingham was my wearable muslin. Unfortunately I couldn't find a pink zipper or a reversible zipper by the time I decided on this jacket. The poly was terrible to work with but I love this fun jacket! I may wear it with the pink side out even though I won't be able to zip it. This is Newport Top and Eddystone Jeans with my jacket.
My final Causeway Bomber is a madras plaid patchwork with twill on the reverse side, lined with a white rayon cotton because I was afraid the colors of the other side would show through. I love this jacket too; and was excited to wear it the very next day with Oia Dress! The paid was deep stash as it was bought to make a toddler size duvet cover for our now 19 year old son. I will think of him when I wear it!
Oia Dress is one of my many favorites!
I thought this fabric would be fun to wear on a cruise (if we ever get to go again).
Causeway Bomber Jacket features from the listing:
Options for cup sizes
Relaxed, hip-length bodice
Slightly dropped shoulders with long two-piece sleeves
Optionally reversible (both sides are identical)
Center front exposed zipper
Ribbed collar, waistband and cuffs
Front princess seams
Optional invisibly zipped pockets on one or both sides of the jacket
Layers feature—print only the sizes you need
Sizes 00-40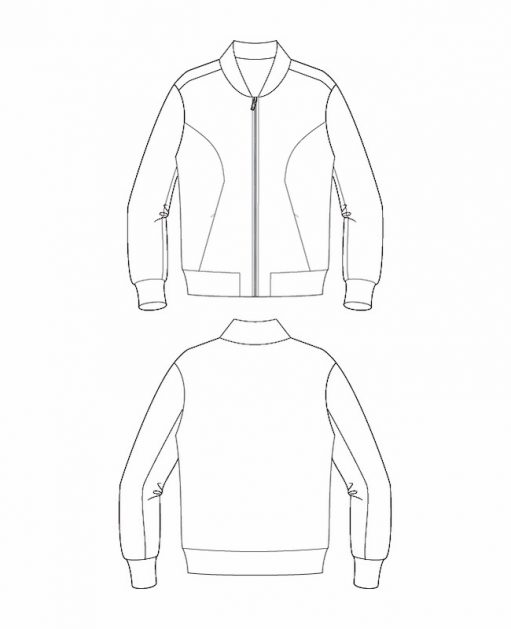 Causeway Bomber is on sale for $11.40 through October 21.
The highlighted words are my affiliate links. I earn a small compensation to put toward testing supplies, but it doesn't cost you any extra should you choose to buy any of the patterns. Thank you!
Thanks for reading! See you next time…