When Kennis from Itch-to-Stitch posted the pattern test for Kosice, I was so excited and so ready to sew something! I jumped right in with my top, loving the instructions and a new way of binding and applying the elastic. The front and back top edges have a bias strip facing and I love how it turns out. I chose to sew the elastic sleeve view.
Here are some details from the listing:
The Kosice Top & Dress is a beautiful peasant-style top or dress with a touch of modern-day romance. Designed for lightweight woven fabric, the Kosice comes in different cup sizes. A Kosice dress made with floral fabric would certainly stop traffic. Or use a bright and fun print to make a top that is suitable for everyday wear. The Kosice includes options for short flare sleeves and short sleeve with elastic hem.
Options for A, B, C, D and DD cups
Options for top and dress
Options for two raglan sleeves:
Short flare sleeves
Short sleeve with elastic hem
Dress option has sash
Button-down front
Front and Back V necklines
Elasticized shoulders
Sizes 00-20
This is the Danube Skirt, also from Itch-to-Stitch. My Kosice fabric is a cotton/maybe poly blend from stash. It felt like the right weight for this blouse that is finished with French seams.
After sewing up my top in no time, I decided to cut out a dress from some prized printed eyelet fabric I got at JoAnn's a couple of years ago.
The right pattern didn't come up until now and this one felt just right. I managed to squeeze my dress out of 1 1/3 yards but had to piece together the sash to do so. I really love this dress and may wear it to a wedding we will be attending in August.
Kosice Top & Dress is on sale for $9.60 (no code needed) until July 28. Be sure to get your copy!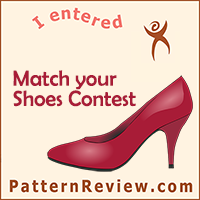 My Kosice Dress was entered into the Match your Shoes Contest with my pink Birkenstocks. Voting will start after July 31!